20 pieces Skylanterns Skyballoons red
Choose:
The bright "sky lanterns" to ensure Romatik and breathtaking moments.
They are about 110 cm high and about 70 cm in diameter.

This article is THE highlight of every wedding, birthday parties and corporate events. They can also be labeled with a marker! Simply increase the fuel enzünden the balloon and let warm up after about 45s. Together with your friends you can add several balloons, or rise in succession and can enjoy an enchanting sight of the "floating fire" in the night sky. Sky lanterns are the best alternative from Asia to loud fireworks and balloons not only to ordinary New Year's Eve, but 365 days a year.

Our Skyballoon are fun for all the parties in particular have, want to surprise their friends, guests or customers with exceptional gifts and events and their time and their fellow human beings like to be one step ahead. The tradition of flying lanterns dates back to the third Kingdom 2000 years ago. They used her visibility for several miles, first to transmit military information. Later they were also from the "normal people" discovered to signal to friends and family at a great distance by the rising health and wellbeing. Today Skyballoon as new party & event decoration idea is used on various occasions. For weddings, birthdays, Christmas, Valentine's Day, anniversaries, summer festivals, festivals, christenings, meetings, and much more for advertising and of course New Year's Eve.

Traditionally made of bamboo, and candles made of cotton flame resistant rice paper lovingly hand-sky lanterns are subject to our strict quality controls and comply with European directives. You will receive a full-featured, high quality and ready to use kit with odorless candles and natural cotton, safety information and instructions!
Larger quantities on request!
Got a question?
These products you might like too
2,99€
incl. 19% VAT
plus Delivery charges
Details
14,00€
incl. 19% VAT
plus Delivery charges
Details
16,99€
incl. 19% VAT
plus Delivery charges
Details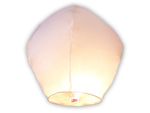 1,00€
incl. 19% VAT
plus Delivery charges
Details
39,99€
incl. 19% VAT
plus Delivery charges
Details
1,00€
incl. 19% VAT
plus Delivery charges
Details