Light Stick Flashing Sticks Star with fiber glass all colors
Choose:
Are you looking for something special for a concert, party, festival or an open air concert to conjure up a glowing mood? Or a brilliant toy for your children? Then we have the right one for you, the flashing LED light stick.

The light stick is just a big fun for young and old.The glow sticks with star and fiber glass are the sensation for Carnival, festivals or just for a party. The flashing sticks (light sticks) have three flashing levels (fast flashing, slow or very slow flashing). More blink effect thanks to the latest LED technology. You will be impressed simply by the stunning lighting effects. Length: with Star and fiber glass 40 cm, Star size 8,5 cm.

To activate the flash light stick, pull out the backup discs at the counter and press the button. Then the LEDs begin to flash.

The glow sticks are all supplied with batteries.
Got a question?
These products you might like too
5,99€
incl. 19% VAT
plus Delivery charges
Details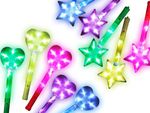 2,99€
incl. 19% VAT
plus Delivery charges
Details
1,99€
incl. 19% VAT
plus Delivery charges
Details
2,49€
incl. 19% VAT
plus Delivery charges
Details
2,49€
incl. 19% VAT
plus Delivery charges
Details
2,49€
incl. 19% VAT
plus Delivery charges
Details